---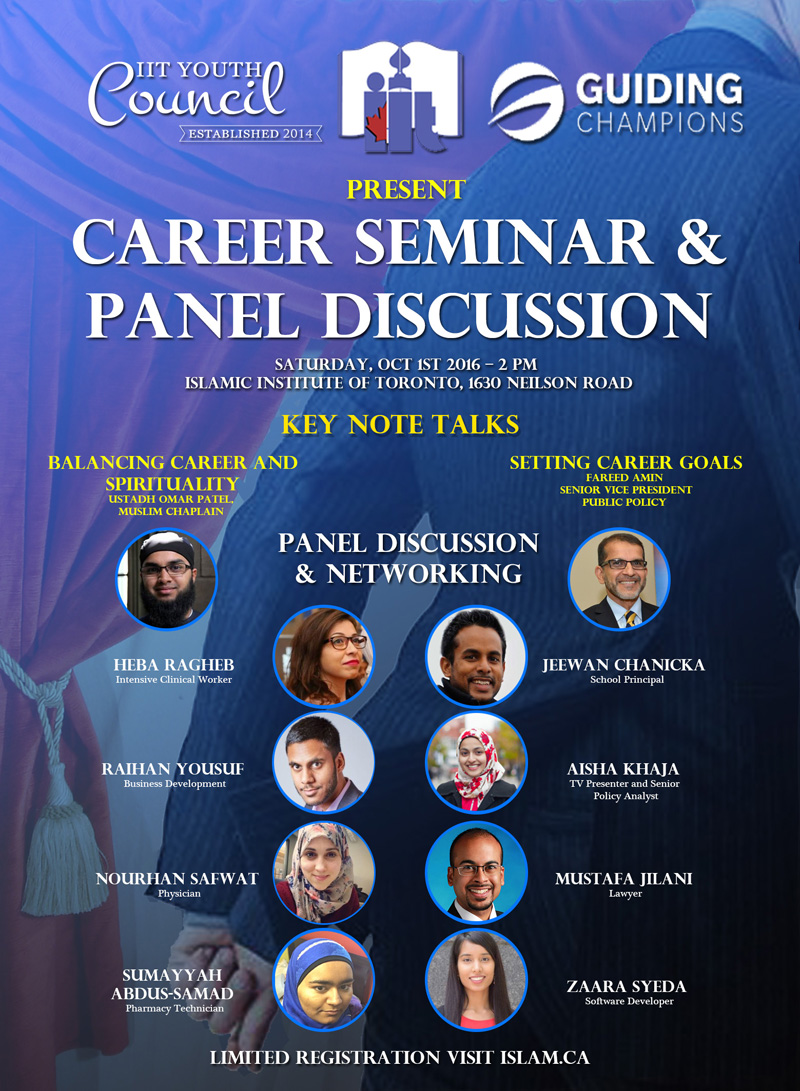 Career Seminar & Panel Discussion:
Oct. 1, 2 pm
Join the IIT Youth Council for a Career Seminar and Panel Discussion on Saturday October 1, 2016 at 2pm. Speakers from a variety of career fields will be participating including healthcare, engineering, IT, education, law, public policy and business.
Registration is limited.
---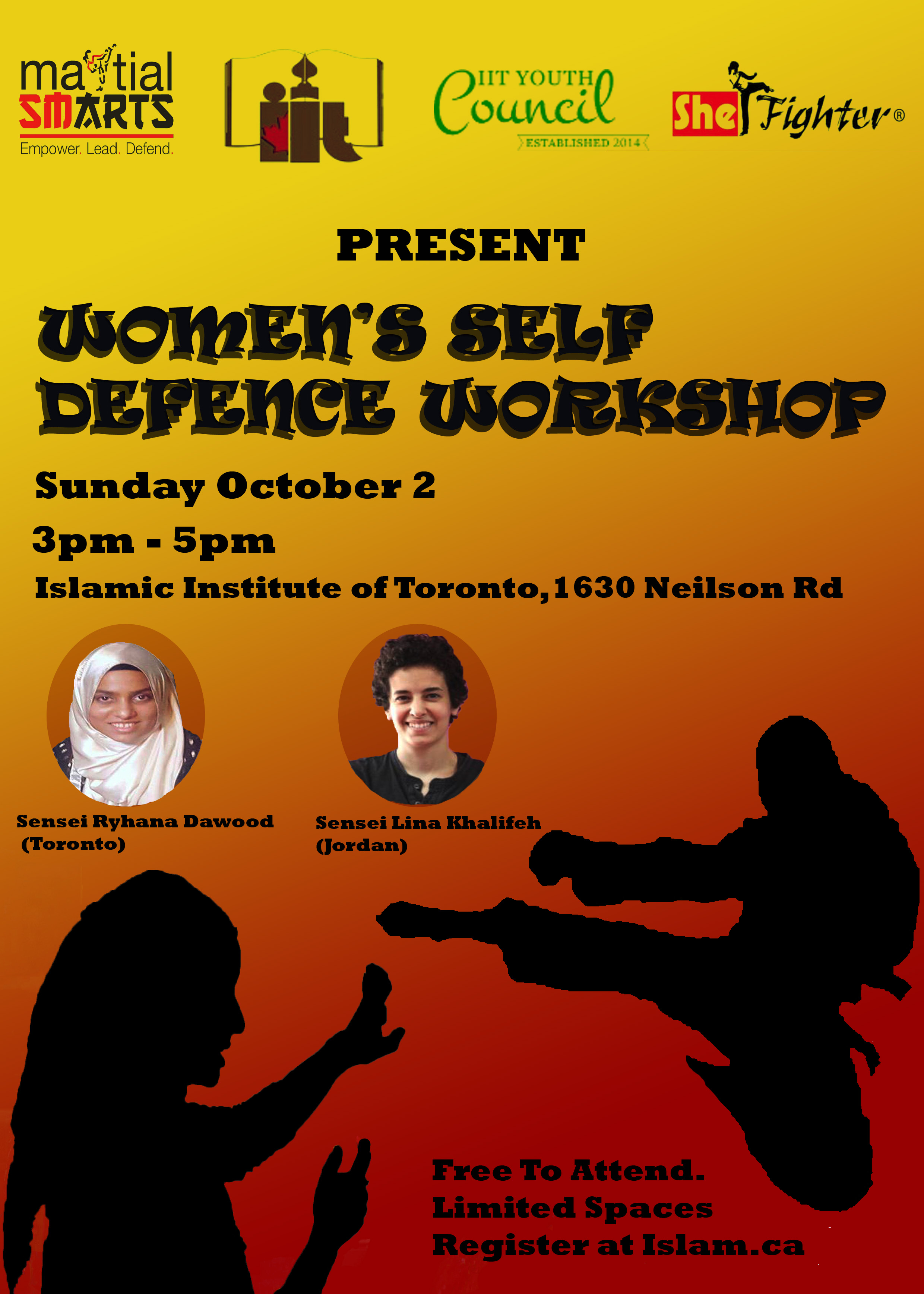 Women's Self Defence Workshop:
Oct. 2, 3 pm
Come join Sensei Ryhana Dawood (Toronto) and Sensei Lina Khalifeh (Jordan) for a FREE women's self-defence session!
Representing Martial Smarts, SheFighter and UMMA Martial Arts, these instructors have been training in the martial arts for over 15 years and have taught self-defence to over 10 000 women and children around the world. Donations are accepted to support our organizations and to help make self-defense more accessible to those who need it the most.
---
Peel Regional Police - Muslim recruitment session:
Oct. 5, 6 pm

at Sayeda Khadija Centre

Peel Regional Police is continuing with ongoing initiatives to draw new, diverse and qualified candidates into policing to promote employment opportunities as Police Cadets, Police Constables and Civilians to different demographics, cultures and communities within the Region of Peel and the GTA.

A Muslim Recruitment Forum session will be held on Wed. Oct. 5, 6pm - 9pm, at Sayeda Khadija Centre. Muslims knew the police system since the Prophet's (peace be upon him) era, but it was not in a systematic or organized manner. Al-Bukhari stated in his Sahih that "Qays ibn Sa'd (may Allaah be pleased with him) was to the Prophet like a chief police officer to an Amir." Umar ibn al-Khattab (may Allah be pleased with him) was the first Muslim ruler who carried out night patrols at Madinah to guard the people and reveal suspicious elements.
---
Tafseer session:
Oct. 8, 6 pm
Join us for one of our flagship programs, where
Shaikh Abdool Hamid
will discuss central concepts in the Qur'an. These sessions systematically explain the verses of the Holy Qur'an from the earliest sources.
---
Fall semester
There are many classes available, on subjects ranging from Islamic history, to book reviews, tafseer, and more!
Review the class schedule for details.
Queries pertaining to on-line registration and access should be sent to registrar@islam.ca
•
NEW!
Sisters' Study Program
- Shaikh Musleh Khan:
Tuesdays, 7 pm, Sep. 20 - Dec. 13
•
Friday night adults' class
- Shaikh Abdool Hamid:
Fridays, 6:30 pm
•
NEW!
Monthly Book Review - Great Books of Islamic Civilization
- Various scholars:
Saturdays monthly, 7 pm
•
Arabic language - book 3 (continuing class)
- Shaikh Abdool Hamid:
Mondays, 7 pm
•
NEW!
Arabic language - book 1
- Sister Rona Ullah:
Mondays, 7 pm
•
NEW!
Arabic language - book 2
- Sister Rona Ullah:
Tuesdays, 7 pm
•
NEW!
Beginner's tajweed
- Sister Julie Lowe:
Fridays, 7 pm
•
Tafseer sessions
- Shaikh Abdool Hamid:
2nd &amp 4th Sat. of the month, 6 pm
---
Rouge Valley/Scarborough Hospital community roundtables
Rouge Valley Health System's Centenary site will amalgamate with The Scarborough Hospital on November 1, 2016. This amalgamation will allow for better coordination of services across the region, while ensuring community members continue to receive timely access to quality health care well into the future. You are invitred to attend one of three community roundtables to discuss the future of health care in Scarborough.
→ See flyer for details
---
IIT Ball Hockey league REGISTRATION is now over
Thanks to everyone who signed up for our exciting fourth season. I promise you won't be disappointed.
The season runs from Sep. 2016 to Mar. 2017 at IIT on Friday nights. If you have any questions, send an
email to Khalid
or call him at 416-894-5758.
---
Eid mubarak!
We urge all Muslims to review 'How to Keep the Lessons of Hajj?' and wish everyone a blessed Eid.
May Allah accept the pilgrimage of those who performed hajj, and return them safely to their families.
---
Condemn Islamophobia - sign the petition
A
petition
has been drafted in order to condemn Islamophobia in all of Canada:
https://petitions.parl.gc.ca/en/Petition/Details?Petition=e-411
This
petition
will be presented in the House of Commons in order to be voted and adopted by Federal Parliament of Canada. The more signatures we have, the easier and the bigger impact that petition will have.
We call upon you, family members, your friends, and your contacts to participate in this campaign of online signatures in order to make our voices and concerns heard.
---
Transcript of Dr. Quick's 2016-08-19 khutbah
With the coming of September and the fall season, people throughout the Western world, prepare themselves for a major change in lifestyle. The summer is over, schools are re-opening, businesses are re-organizing and time becomes critical. This is one of the moments that cause people to look at the calendar, plan ahead and make an assessment of the past.
Continued...
---
Pope says it's wrong to identify Islam with violence
Pope Francis said on Sunday that it was wrong to identify Islam with violence and that social injustice and idolatry of money were among the prime causes of terrorism.
"I think it is not right to identify Islam with violence," he told reporters aboard the plane taking him back to Rome after a five-day trip to Poland. "This is not right and this is not true."
Francis was responding to a question about the killing on July 26 of an 85-year-old Roman Catholic priest by knife-wielding attackers who burst into a church service in western France, forced the priest to his knees and slit his throat. The attack was claimed by Islamic State.
Continued...
---
Islamic counselling with IIT scholars
Shaikh Ahmad Kutty:
Tuesdays 10 am - 12 pm - preferably by appointment at
consultation@islam.ca
Shaikh Musleh Khan:
Tuesdays & Thursdays 4-7 pm - preferably by appointment at
consultation@islam.ca
Shaikh Abdool Hamid:
Mondays & Wednesdays 4-7 pm - preferably by appointment at
consultation@islam.ca
Dr. Abdullah Hakim Quick:
Tuesdays & Wednesdays 3-7 pm - preferably by appointment at
consultation@islam.ca
---
YouTube channel
Please
subscribe
and share our trailers & lectures with your friends and families.
Also visit our media page: islamicinstitute.ca/media
---
Khutbah archive
For khutbah recordings & more, search for 'IIT' on iTunes and subscribe to our podcasts
(or visit iit.podbean.com)
---
Children's evening madrassa
Focusing on fluency & recitation of the Qur'an according to the rules of tajwid.
Registration done at IIT.
---
→ Sign-up on-line today!
500 monthly donors
Let IIT be part of your income!
Yes, when you donate to IIT, you will be rewarded for it in the hereafter, and your wealth is purified in this world.
Be part of our 500 monthly donor drive - sign-up on-line
or submit a void cheque to the IIT.
---
IIT Academy
The IIT Academy is a registered private school with the Ontario Ministry of Education, and offers the full Ontario curriculum (JK - grade 8), as well as Islamic Studies, Arabic Language, Qur'an Recitation and French.
---
Library
We are in the process of setting up a community library to be located on the south side of building, on the second floor. A reading room is attached to the library and can be accessed via sliding doors connecting the two spaces.
---
Donate now
Support the IIT's objective to promote Islamic knowledge through education and training
---
Campus Project
Booklet
•
Brochure
•
Poster
<! -- ##################################################################################################### -->