---
Inna lilla he wa inna elaihe rajioun
It is with great sadness and grief that we announce the passing of Bibi Hafiza Khadaroo on Fri. April 21, at age 87, in Mauritius.
She leaves behind 10 children including Aboo
(husband of IIT Academy's Secretary, Nazreen Shaffee)
, 23 grand children and 11 great grand children. Janaazah was held in Mauritius, surrounded by loved ones.
May Allah (S.W.T.) forgive her sins, have Mercy on her soul and grant her eternal bliss in Janaat-ul Firdous, Insha Allah - Ameen
- please remember her, and all those that have passed away, in your duas.
---
Sign up for our newsletter
Stay in the loop! Sign up
for our
newsletter
for updates on all our programs & events, interesting news, and more!
---
Spring semester
We are excited to be offering courses such as:
•
Allah is Beautiful and He Loves Beauty
with
Shaikh Ahmad Kutty
•
Quranic Arabic
with
Shaikh Abdool Hamid
•
Inheritors of Divine Light
with
Shaikh Abdullah Hakim Quick
•
A Thematic Journey Through the Qur'an
with
Shaikh Musleh Khan
Plus continuing classes in Arabic language, youth classes, and more!
If you don't receive e-mail confirmation shortly after registration, please check your junk/spam folder.
---
Youth Table Tennis Tournament:
Sat. Apr. 29
Registration is full for youth 10-16 for our 6th Annual Youth Table Tennis Tournament to be held at IIT on Saturday April 29. The adult tournament will be held at the same time.
Everyone welcome to come out and watch some of the best Muslim players in Ontario compete
.
---
Robotics workshop:
May 6, 10:30 am
Are you a student in grade 6, 7 or 8? Have you ever wanted to build a robot? Would you like to learn more about robotics and coding? Then, this workshop is for you!
The
IIT Youth Council
invites you to be a part of an exciting team that will design and build robots. Your robot will have to compete with other robots to navigate through a challenging maze. The first robot out of the maze wins!
Spots are limited. Girls and boys are welcome to attend!
Please note that this workshop is only open to students in grades 6, 7 and 8. Also, all participants are required to bring in their own laptop to program their robot.
Registration includes refreshments and a pizza lunch.
---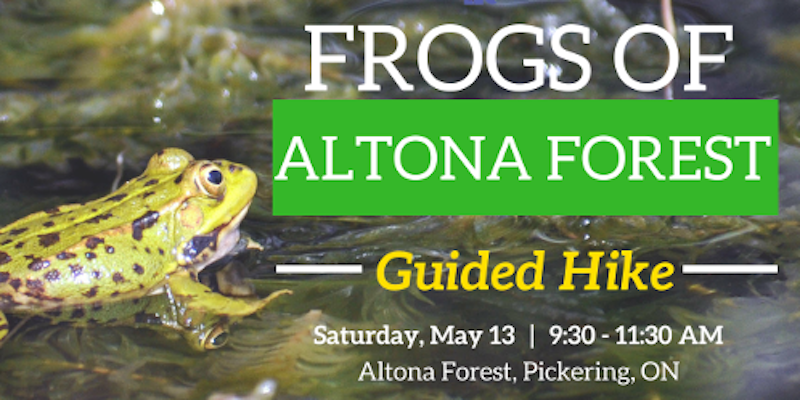 Frogs of Altona Forest:
May 13, 9:30 am
Discover the frogs of Altona forest on a hike presented by the IIT Youth Council. Learn about when frogs emerge in the forest and the different species that call in the spring. Spots are limited!
The hike will be led by Larry Noonan, a local environmentalist from the Altona Forest Stewardship Committee.
---
Preparing for Ramadhan:
May 14, 2 pm
Are you ready for Ramadhan? Join Shaikh Musleh Khan as we learn how to approach this blessed month and what we can do to make the most of it. This course is designed to:
- Remind us that Ramadhan is a blessing from Allah
- Teach us the proper way to approach this blessed month
- Motivate us to make the most of Ramadhan
- Ensure that we understand and implement all key aspects of Ramadhan
- Give us an opportunity to ask any Ramadhan-related fiqh questions
The course will also include a special Nutrition and Fitness session with Sister Sadaf Jamal.
---
Hajj group full
If you wish to join the waiting list, you must submit all registration material along with a refundable deposit
.
---
Essentials of Living The Path - Tips For Living an Examined Life
(Shaikh Ahmad Kutty)
Reflecting the ethical and spiritual vision of Islam - a concise view of the Islamic belief and practices
---
YouTube: we're regularly uploading new videos!
Visit our
YouTube channel
- subscribe and share our trailers & lectures with your friends and families.
Subscribe to our channel and receive notifications for new content!
---
Confronting Islamophobia and racism
All praises are due to Allah, Lord of the worlds and may the peace and blessings of Allah be constantly showered upon our Beloved Prophet Muhammad forever.
As we move further into the 21st Century, the tensions and crises of the world are increasing by the day. Muslims, in the past, have always looked to the guidance of their Lord and the methodology of the Last Prophet Muhammad (pbuh) to bring light in the time of darkness.
Continued...
---
IIT Ball Hockey league - no more players accepted this year
NEW PLAYERS:
If you would like me to contact you as soon as registration begins in August 2017, please send me an email with the name and date of birth of the person who wants to play. I will add him to my database and contact you when registration begins insha Allah.
RETURNING PLAYERS:
You are automatically contacted.
Send an
email to Khalid
with the requested information or call him at 416-894-5758.
---
Islamic counselling with IIT scholars
Shaikh Ahmad Kutty:
Tuesdays 10 am - 12 pm - preferably by appointment at
consultation@islam.ca
Shaikh Musleh Khan:
Tuesdays & Thursdays 4-7 pm - preferably by appointment at
consultation@islam.ca
Shaikh Abdool Hamid:
Mondays & Wednesdays 4-7 pm - preferably by appointment at
consultation@islam.ca
Dr. Abdullah Hakim Quick:
Tuesdays & Wednesdays 3-7 pm - preferably by appointment at
consultation@islam.ca
---
Khutbah archive
For khutbah recordings & more, search for 'IIT' on iTunes and subscribe to our podcasts
(or visit iit.podbean.com)
---
Children's evening madrassa
Focusing on fluency & recitation of the Qur'an according to the rules of tajwid.
Registration done at IIT.
---
→ Sign-up on-line today!
500 monthly donors
Let IIT be part of your income!
Yes, when you donate to IIT, you will be rewarded for it in the hereafter, and your wealth is purified in this world.
Be part of our 500 monthly donor drive - sign-up on-line
or submit a void cheque to the IIT.
---
IIT Academy
The IIT Academy is a registered private school with the Ontario Ministry of Education, and offers the full Ontario curriculum (JK - grade 8), as well as Islamic Studies, Arabic Language, Qur'an Recitation and French.
---
Library
We are in the process of setting up a community library to be located on the south side of building, on the second floor. A reading room is attached to the library and can be accessed via sliding doors connecting the two spaces.
---
Donate now
Support the IIT's objective to promote Islamic knowledge through education and training
---
Campus Project
Booklet
•
Brochure
•
Poster
<! -- ##################################################################################################### -->