---
Save Syria Medical Relief Mission
Dr. Nabiha Islam, a young medical doctor who has been active with the IIT community for many years, will be joining a team of medical professionals under IMANA to assist Syrian refugees in Jordan. There are over 600,000 displaced Syrian refugees in Jordan where IMANA's Basic Health Unit will provide free medical aid to refugees who have no status in Jordan, and therefore no healthcare. "I will be volunteering with a group of doctors and nurses from the Islamic Medical Association of North America in November 2016 inshAllah," says Nabiha. "We will be seeing and treating about 300-400 patients per day.
Everything you donate
will go directly towards purchasing medical supplies only (all healthcare providers are volunteering their time and purchasing their own flights)!"
Please note that IMANA does not have charitable status and a charitable tax receipt will not be issued.
---
Class cancellations
Oct. 29
:
Great Books of Islamic Civilization - Imam Ghazzali's Ihya Ulum al Deen
with
Shaikh Ahmad Kutty
rescheduled - date to be announced.
---
History and culture of Morocco:
Oct. 29, 7 pm
Jon us for an amazing exhibition and presentation on the history and places of Morocco - with Dr. Abdullah Hakim Quick. Learn about major personalities like Ibn Batuta and al-Idrissi and sample some authentic Moroccan delicacies! Free Admission! Exhibits available for viewing Thursday to Saturday evening. Presentation and refreshments on Saturday October 29 at 7 pm.
---
Islamic History Month
Oct. 1 - 31
- Islam and the world
→ Social media posts and links on facebook
Oct. 29
- Islam in Morocco: Exhibition & presentation
---
Fall semester
There are many classes available, on subjects ranging from Islamic history, to book reviews, tafseer, and more!
Review the class schedule for details.
Queries pertaining to on-line registration and access should be sent to registrar@islam.ca
•
NEW!
Sisters' Study Program
- Shaikh Musleh Khan:
Tuesdays, 7 pm, Sep. 20 - Dec. 13
•
Friday night adults' class
- Shaikh Abdool Hamid:
Fridays, 6:30 pm
•
NEW!
Monthly Book Review - Great Books of Islamic Civilization
- Various scholars:
Saturdays monthly, 7 pm
•
Arabic language - book 3 (continuing class)
- Shaikh Abdool Hamid:
Mondays, 7 pm
•
NEW!
Arabic language - book 1
- Sister Rona Ullah:
Mondays, 7 pm
•
NEW!
Arabic language - book 2
- Sister Rona Ullah:
Tuesdays, 7 pm
•
NEW!
Beginner's tajweed
- Sister Julie Lowe:
Fridays, 7 pm
•
Tafseer sessions
- Shaikh Abdool Hamid:
2nd &amp 4th Sat. of the month, 6 pm
---
Canadian Muslim Mental Health Conference:
Nov. 5, 8 am
On behalf of MMAC I would like to invite you to The Canadian Mental Health Conference on Nov 5. This is a conference for professionals, students, imams and community members. We welcome people of all faiths and backgrounds. Inshalla it will be a very informative conference that will widen your knowledge on mental health, well being, promote growth and inspire healing in an Islamic context. It will also offer a platform to discuss current issues that affects the Muslim community and how it impacts the mental health of Muslims. Inshallah this will be a conference you don't want to miss.
For more details, please
visit the facebook page
. Please, note that
tickets are limited
and will not be sold at the door.
---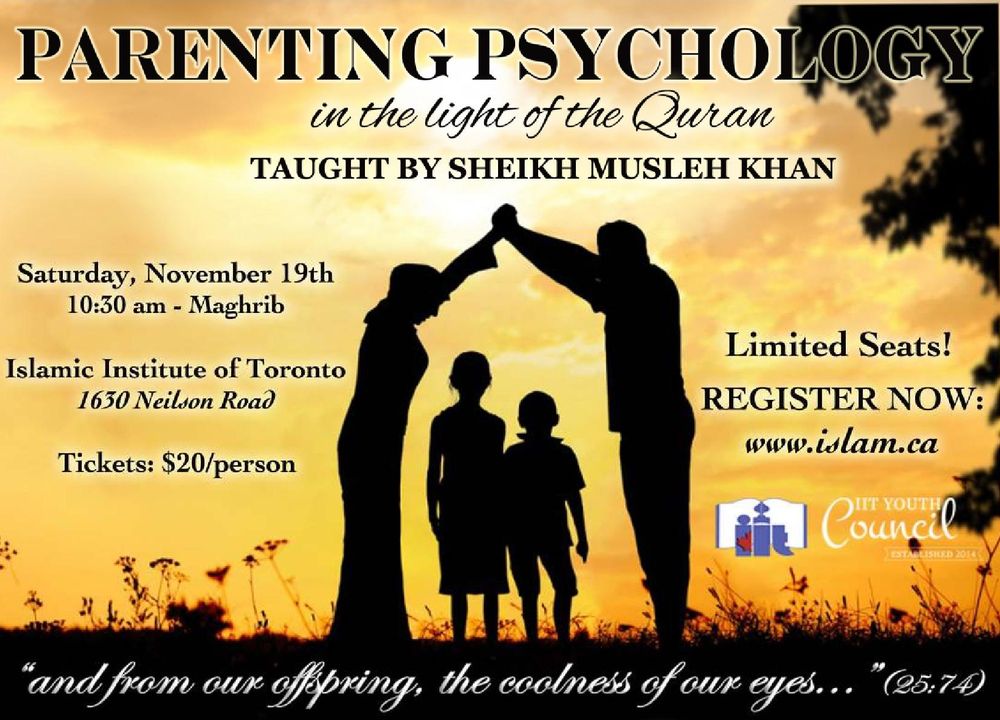 Parenting psychology seminar:
Nov. 19, 10:30 am
The IIT Youth Council is excited to invite you to our first full day seminar lead by Shaikh Musleh Khan. Join us as we embark on our journey through the Psychology of Parenting from the Quran. A full lunch will be provided at this event being held on Sat. Nov. 19 at 10:30 am for all registered participants.
Please register soon
as seats are limited. Every registered participant will receive a booklet with the course material and an exclusive IIT wrist band.
---
YouTube: we're regularly uploading new videos!
Visit our
YouTube channel
- subscribe and share our trailers & lectures with your friends and families.
Subscribe to our channel and receive notifications for new content!
---
IIT Ball Hockey league - no more players accepted this year
If you would like me to contact you as soon as registration begins next summer, please send me an email with the name and date of birth of the person who wants to play. I will add him to my database and contact you in plenty of time to sign up for next season insha Allah.
Send an
email to Khalid
with the requested information or call him at 416-894-5758.
---
Pope says it's wrong to identify Islam with violence
Pope Francis said on Sunday that it was wrong to identify Islam with violence and that social injustice and idolatry of money were among the prime causes of terrorism.
"I think it is not right to identify Islam with violence," he told reporters aboard the plane taking him back to Rome after a five-day trip to Poland. "This is not right and this is not true."
Francis was responding to a question about the killing on July 26 of an 85-year-old Roman Catholic priest by knife-wielding attackers who burst into a church service in western France, forced the priest to his knees and slit his throat. The attack was claimed by Islamic State.
Continued...
---
Islamic counselling with IIT scholars
Shaikh Ahmad Kutty:
Tuesdays 10 am - 12 pm - preferably by appointment at
consultation@islam.ca
Shaikh Musleh Khan:
Tuesdays & Thursdays 4-7 pm - preferably by appointment at
consultation@islam.ca
Shaikh Abdool Hamid:
Mondays & Wednesdays 4-7 pm - preferably by appointment at
consultation@islam.ca
Dr. Abdullah Hakim Quick:
Tuesdays & Wednesdays 3-7 pm - preferably by appointment at
consultation@islam.ca
---
Khutbah archive
For khutbah recordings & more, search for 'IIT' on iTunes and subscribe to our podcasts
(or visit iit.podbean.com)
---
Children's evening madrassa
Focusing on fluency & recitation of the Qur'an according to the rules of tajwid.
Registration done at IIT.
---
→ Sign-up on-line today!
500 monthly donors
Let IIT be part of your income!
Yes, when you donate to IIT, you will be rewarded for it in the hereafter, and your wealth is purified in this world.
Be part of our 500 monthly donor drive - sign-up on-line
or submit a void cheque to the IIT.
---
IIT Academy
The IIT Academy is a registered private school with the Ontario Ministry of Education, and offers the full Ontario curriculum (JK - grade 8), as well as Islamic Studies, Arabic Language, Qur'an Recitation and French.
---
Library
We are in the process of setting up a community library to be located on the south side of building, on the second floor. A reading room is attached to the library and can be accessed via sliding doors connecting the two spaces.
---
Donate now
Support the IIT's objective to promote Islamic knowledge through education and training
---
Campus Project
Booklet
•
Brochure
•
Poster
<! -- ##################################################################################################### -->