Will YOU be One of One Thousand?
Ramadhan is rapidly slipping away - prompt action is required to harvest the blessings which will, inshallah, save us in the hereafter.
We invite 1,000 believers to give $300 to the IIT in this blessed month, before Khatam-al-Qur'an.

→ Be One of One Thousand!
---
Ramadhan mubarak!
We wish you the best in this blessed month: May Allah accept your fasting, prayers, charity, and good deeds.
Please contact us if you would like to volunteer in any capacity.
Fitra
($10/person for everyone in the household)
is due well in advance of eid.
Fidya for anyone unable to fast is $10/day.
→ Common questions & answers on fitra and zakaat
→
Act now to alleviate Syria's humanitarian crisis.
(
Canada has promised to resettle 10,000 Syrian refugees
, but private sponsors are needed.)
NOTE
Our timings for salaatul fajr
differ from others published for the GTA, but are in full accordance with the Qur'an, Sunnah and scholarly opinions of many jurists across the centuries.
For a detailed explanation, we encourage you to read or listen to Shaikh Ahmad Kutty's essay on the subject.
These timings have been published for your reference only and you may access alternative timings for your location at islamicfinder.org
Lecture & iftar program (Saturdays, 1 hour before maghrib)
| | |
| --- | --- |
| July 11 | Dr. Abdullah Hakim Quick, The Prophet's Plea: Do Not Abandon This Qur'an! |
Tarawih
Tarawih led by Hafiz Mohammad K. Zaman and Hafiz Hassan Mohammed, assisted by Shaikh Abdool Hamid.
Child-care
Free child-care
(for children 18 months to 10 years old)
, during esha & the first eight rakah of tarawih.
Run by a registered ECE and volunteers,
registration required.
Please review the program guidelines.
Gems of Qur'anic Wisdom
A quick glimpse during Ramadhan into the vast treasure of Qur'anic verses.
Monday, Wednesday and Friday, 15 minutes before the adhaan for esha,
our scholars will select verses from the Qur'an and highlight some of their lessons.
Khatam-al-Qur'an program
Qiyam-ul-lail in the last ten nights
Friday July 17: Eid ul-fitr (prayer at 9 am)
---
Light upon Light
---
Ramadhan food drive
The
Youth Council
has launched their annual Ramadhan food drive in support of women's shelters across the GTA. Food is an essential human right, and Ramadhan is a perfect reminder of this. Let's all do our best to help those struggling to escape violence and put food on their table.
Please donate non-perishable food items: drop them off at the IIT during the month of Ramadhan.
Spread the word, and invite others to this generous cause.
---
Ramadhan and Fasting: A Concise Guide
In his usual brilliant and articulate style,
Shaikh Ahmad Kutty
explores the inner dimensions of fasting, its detailed rules and benefits, and addresses some challenging issues related to the blessed month of Ramadhan in the West.
Available from our bookstore.
---
Summer day camp:
Jun. 29 - Aug. 7
NOTE
The first two weeks filled up quickly - register at the IIT now for upcoming weeks!
This will be the Islamic Institute of Toronto's 18th
Annual Summer Day Camp
, and our goal is to provide children ages 5 to 12
(participants must be 5 years of age by December - proof of age may be required)
with a summer experience that is exciting and enriching.
---
Let Us Stand Up for Canada - Shaikh Ahmad Kutty
Canada is our home; it is the country we cherish for ourselves, our children, and our grandchildren. So, we need to stand up for Canada. This raises the question:
what does it mean to stand up for Canada?
Continued...
---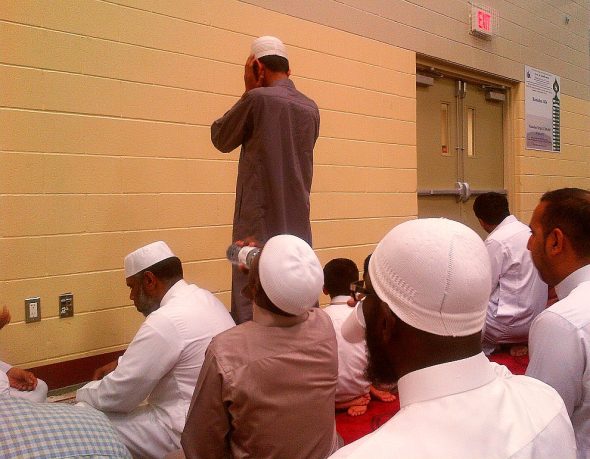 Iftar at IIT - 30 Masjids.ca
30 Masjids.ca (@30Masjids) documents HiMY SYeD's journey to various masajid during Ramadhan.
---
How to Benefit from Ramadhan Optimally
Ramadan is the most blessed month in the Islamic calendar. It is primarily a spiritual training course intended to help us cultivate essential virtues and skills in order to lead a meaningful life. Most often we live at a very superficial level of our existence, forgetting our true essence and identity as human beings. In other words, we become totally preoccupied with the physical and material dimensions, forgetting the spiritual core of our personalities.
Continued...
---
Ramadan: a meal for your brain
(By Taufik A. Valiante, MD, PhD, FRCS)
Your brain is who you are. A constellation of past experiences, hopes, dreams, and knowledge, receiving input from the outside world through your senses, and simultaneously changing that very world through your interactions. It is thus shaped by, but yet shapes the world around it. It is constantly changing with every second, as every experience you have alters its physical and chemical structure. It is as mysterious to the neuroscientist as to average individual. Scientists refer to it as the most complex thing in the universe, thus currently defying definition, and a scientific language to describe what it does.
Continued...
---
Eid carnival & food bazaar:
Jul. 26, 12 - 6 pm
Bring the kids and your whole family, and enjoy a day of food & fun in an Islamic atmosphere! The carnival will feature free rides and games as well as a food bazaar.
Admission is free
, food will be on sale.
---
Community news
•
Ontario Human Rights Commission: Share your views on racial profiling
•
NCCM launches national hate crimes awareness project
•
Truth and Reconciliation Report recommends implementation of UN Declaration on Rights of Indigenous Peoples
•
Seven Nobel Peace Laureates Call Rohingya Persecution a Genocide
---
Khutbah archive
For khutbah recordings & more, search for 'IIT' on iTunes and subscribe to our podcasts
(or visit iit.podbean.com)
---
Sisters' Yoga:
Fridays, 8 - 9 pm
Registration is now closed
- will reopen in September for new season.
---
Children's evening madrassa
Focusing on fluency & recitation of the Qur'an according to the rules of tajwid.
---
Noteworthy
•
Earth Day: Green tips from the sunnah
-
by Shaikh Ahmad Kutty
•
Haroon Siddiqui - An Inspiring Trailblazer
-
by Shaikh Ahmad Kutty
•
Islam Awareness Week: Dr. Abdullah Hakim Quick's trip to Guyana
•
Honoring the Prophet
-
by Shaikh Ahmad Kutty
---
→ Sign-up on-line today!
500 monthly donors
Let IIT be part of your income!
Yes, when you donate to IIT, you will be rewarded for it in the hereafter, and your wealth is purified in this world.
Be part of our 500 monthly donor drive - sign-up on-line
or submit a void cheque to the IIT.
---
IIT Academy
The IIT Academy is a registered private school with the Ontario Ministry of Education, and offers the full Ontario curriculum (JK - grade 8), as well as Islamic Studies, Arabic Language, Qur'an Recitation and French.
---
Donate now
Support the IIT's objective to promote Islamic knowledge through education and training
---
Campus Project
Booklet
•
Brochure
•
Poster
<! -- ##################################################################################################### -->